Randomness
July 19, 2008
Bookworms
Let's talk about books this week.
1. What are you currently reading? If you're not reading anything right now, what was the last book you read?
I am currently reading two books. I am working through the Janet Evanovich Stephanie Plum books and am reading Seven Up. These are great books for the summer - easy, fun reading. I am also reading Excuse Me, You Life is Waiting by Lynn Grabhorn which is about the Law of Attraction (you radiate what you attract via your emotions/feelings/thoughts). It has been an interesting read and I am looking forward to finishing it and trying out some of Lynn's ideas.
2. Where is your favorite place to get your books from? Goodwill, friends and family and my favorite: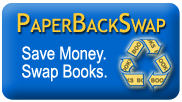 3. Name a book you read and did not enjoy.
The Mission Song by John le Carre. It was just too much for me to enjoy.

4. How has your taste in books changed over the years? What types of books do you read now as opposed to five years ago?
I read more mysteries and less romance.
5. When you walk into your favorite bookstore, where do you go? Mystery...Romance...Latest Releases....Non-Fiction...etc?
Mysteries.