Saturday, August 6, 2011
Posted by

Christine Duff
at 7:45 PM
No comments:

1. What books and/or magazines did I read this month?
Magazines – Marie Claire 5/11; Lowe's Creative Ideas Spring 2011; My Home Mar/April 2011; All You April 22, 2011; Cosmo May 2011;
Books – The Help by Kathryn Stockard; Not My Daughter by Barbara Delinsky; Abby Cooper Psychic Eye by Victoria Laurie; Smokin' Seventeen by Janet Evanovich; Undead and Unwed by MaryJanice Davidson; State of Wonder by Ann Patchett; The Silent Girl by Tess Gerritson
2. What movies, television shows, plays, etc. did I watch this month?
Movies – Conviction; Beastly; Moonlight and Mistletoe; Hall Pass; Arthur; The Adjustment Bureau; November Christmas; Farewell Mr. Kringle
TV Shows – Dharma and Greg; Criminal Minds Season 1, Disc 3, 4, 5; Without a Trace Season 1, Disc 1, 2, 3, and 4 True Blood Season 3 Disc 3,4; Army Wives Season 5; Harry's Law Season 1
3. What fun things did I do with my family and/or friends?
Bill and I celebrated the anniversary of our first date – we went to Iguana Mia's in Bonita and had drinks and a great meal.
We also met with Pastor Andrew and got set up with pre-marital counseling.
We had Bailey's birthday party at the Golden Gate Pool on the 30th.
4. What gifts did I give and/or receive?
Grandpa Bill and I got Bailey a bike for her birthday.
5. What special or unusual purchases did I make?
We got a dog this month – a Yorkie named Mister. He is a very loveable, playful dog – now to get him potty trained.
6. What illnesses or health concerns did I have?
Kadie had surgery for a shunt early in the month.
I am still dealing with my urologic issues but I have an appointment for next month. I have also had some killer headaches that nothing seems to relieve. My GP wants me to see a Neurologist but I have to wait until after I get my urologic issues resolved before I can think about that.
7. What were my accomplishments this month?
I got thirteen scrapbook pages done this month – not nearly the amount of past months but I am happy with the number.
8. What were my disappointments this month?
No major disappointments this month.
9. How did I do on my goals for the month?
10. Anything else noteworthy to include?
I took off four days from work and watched Bella while Brandon and Sammy went to the Keys for the two day lobster hunt. They had a needed vacation and I got to love on my new grandbaby.
QUOTE –I began to realize how important it was to be an enthusiast in life. He taught me that if you are interested in something, no matter what it is, go at it at full speed ahead. Embrace it with both arms, hug it, love it and above all become passionate about it. Lukewarm is no good. Hot is not good either. White hot and passionate is the only thing to be. –Roald Dahl (1916-1990)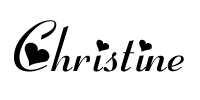 Posted by

Christine Duff
at 10:53 AM
No comments: