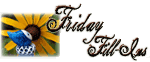 Friday Fill-In #70
May 2, 2008
1. Two of my favorite ingredients in a drink are
root beer and vanilla vodka
!
2.
My granddaughter, Bailey
often amazes me.
3. You can keep doing that forever, the dog is
asleep.
4.
Powdered mix and hot water
, mix it all together and voila! You have a
cup of great French Vanilla coffee
.
5. If I had a yard with a garden, I would love to grow
fresh vegetables
.
6.
Sex
is best au naturel.
7. And as for the weekend, tonight I'm looking forward to
watching Bailey
, tomorrow my plans include
putting more craft items in the new craft room upstairs
and Sunday, I want to
have a nice, quite evening at home!