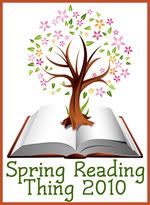 I love to read and I read a lot of books but the Spring Reading Thing 2010 made me set a goal and almost meet my goal.
Here is my original list:
Hissy Fit by Mary Kay Andrews - Read it and loved it.

Keeping Faith by Jodi Picoult - Read it and loved it.
Designer Knockoff by Ellen Byerrum - Read it, fun, fast read
A Girl Like Moi by Lisa Barham - Read it, a teen book but fun
Daughter's Keeper by Ayalet Waldman - Read it, loved it.
Dead to the World by Charlaine Harris - Am about half way done with this. I can't understand why I like these vampire books but I do.

Alice in Wonderland by Lewis Carroll - Tried to read it, was this guy on drugs when he wrote this?
Bright Child, Poor Grades by Barry & Patricia Bricklin - started it, not sure if it will help where I need help, it's an old book.

A Kiss Remembered by Sandra Brown - Read it, a little too romancey for my taste but ok.

So out of nine books I have finished six, started two more and decided not to read it. And I finished two other books that weren't on my list and and started one other.
Don't Stand Too Close to a Naked Man by Tim Allen - Read it, made me laugh.
The Sexy Years by Suzanne Sommers - Reading it.
The Choice by Nicholas Sparks - Read it, loved it.

So, a good final tally - 8 books read and three others started. Can't wait for the next reading challenge.