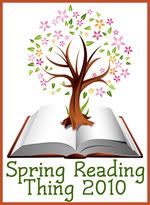 I got to thinking about the Spring Reading Thing 2010 that I signed up for. I know I have read a fair amount of books on my list and a few not on my list and thought I would update.
Here is my original list:
Hissy Fit by Mary Kay Andrews
Keeping Faith by Jodi Picoult - Read it and loved it.
Designer Knockoff by Ellen Byerrum - Read it, fun, fast read
A Girl Like Moi by Lisa Barham - Read it, a teen book but fun
Daughter's Keeper by Ayalet Waldman - Read it, loved it.
Dead to the World by Charlaine Harris
Alice in Wonderland by Lewis Carroll - Tried to read it, was this guy on drugs when he wrote this?
Bright Child, Poor Grades by Barry & Patricia Bricklin
A Kiss Remembered by Sandra Brown
So out of nine books I have finished four, started one more and decided not to read it and started three others that weren't on my list.
Don't Stand Too Close to a Naked Man by Tim Allen - Read it, made me laugh.
The Sexy Years by Suzanne Sommers - Reading it.
The Choice by Nicholas Sparks - Just started this one.
I have a huge addiction to books and whenever I go to Goodwill I can't help purchase one or two or twelve. I got The Sexy Years for $1.99 about a week ago and yesterday I got three books at Goodwill each for $.99. I got The Choice, Shopaholic Take Manhatten by Sophia Kinsella and Lady Killer by Lisa Scottoline. And of course, we you get a new book you just have to read it. So, that is why I didn't go by my list.
There are two weeks left in the challenge and I will probably finish the two books I am reading and start another and hopefully it will be one on my list.